Certification Before Planned Degree
Question:
I was just going to ask you for some advice on where to start my personal training career.. I am currently 18 and I'm planning on getting a masters in exercise physiology (I know I have a long way to go).

However you seem very knowledgeable and I noticed you are a CSCS (one of my big goals way further down the road). I had two pretty basic questions to ask...

1. Which certificate do you think would be the best to start with??

Should I just put the time into really studying and go for a big cert like NASM, NSCA, or ACSM or would u recommend starting with a lower level cert? For now I'm just looking to train people part time (for like a summer job or what not) while I'm going to school... I eventually planning on getting one of the big three certificates.. and would like to earn the CSCS also, way further down the road.. do you think I should just go straight to getting a more respectable cert?? and which 3 of the big 3 do would you recommend??

2. What do you think would be the best thing to minor in???

I can easily minor in business but I was thinking maybe education?? Do you have any advice on which would help me get a job out in the real world??


Thanks for reading and any advice is greatly appreciated,?

You can find may of your questions about becoming a personal trainer in the previous article..
If you truly want to make being a personal trainer your long-term career, since you're starting early, getting multiple certifications, even if you eventually let some expire will help you add more things to your resume but will allow you to learn more and get a wide variety of experience as you train clients using knowledge gained from each certification.
ACE is a Good Certification to Start with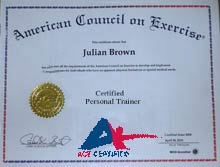 In your question you make ACE sound like a secondary certification which it is not. The certification doesn't make the trainer, the trainer makes the certification.
If you want to work (get paid to train clients) part time before you receive your formal exercise science education in college, the ACE certification is going to be your best bet.
The ACE personal trainer certification is reported to be less difficult and definitely costs less than "the big 3" personal trainer certifications from ACSM, NASM and NSCA.
Choosing a Minor in College
It is always a good idea to choose a minor in college early as it can be difficult to satisfy all the prerequisites to enter in the classes which are required for the minor Keep in mind a minor is just what it says, minor and while it will help you gain quite a bit of knowledge in the subject you choose, it will most likely not qualify you for a job in that field.
If you end up perusing your degree in exercise science or any other major, business may give you the knowledge you need to succeed in a business in your major field. It may be easier and more complimentary if you minor something remotely related to exercise science though.
Make sure you ask your admission councilors in college and/or check the colleges information website to clarify what is available and how it works.
Eventual Personal Trainer Certification
In the future you indicate you want to get the most respected personal trainer certification but that depends on what type of job you end up pursuing. The basic deciding factor when choosing from one of the "big 3" personal trainer certifications is going to be the clients you work with which will in turn change what your employers require.
ACSM - You will be working in a clinical setting such as hospital or senior center.
NSCA-CPT - You are going to be training athletes, bodybuilders (or CSCS).
NASM-CPT - You will be training the average John and Jane Doe in your local gym.
Something to Keep in Mind
There has been some movement towards state-wide licenses for personal trainers which would likely change the value of personal trainer certifications. While this is less likely to affect any personal trainers in the next couple of years it is something to look out for and pay close attention to the ballots in your state.
Related Personal Training Information
Return from Certification Before Planned Degree to the Questions Home Page
---
blog comments powered by