College Football Energy Levels
Question:
I am preparing to play college football so I follow a very strict daily workout regimen. I wake up around 8:30, eat a small breakfast, then go into my first workout.

I do abs for about 20-25 minutes, then go for a 2 mile run. I eat lunch around noon. Then at 1:00 I go to weight lifting.

Mondays, Wednesdays, and Fridays are upper body days. And Tuesdays and Thursdays are lower body. I lift for about an hour and then drive to my speed and conditioning trainer.

There, I do different speed, agility, cardio, and core exercises for an hour workout. That's my day. I follow every workout with a glass of EAS whey protein. Lately, I've been lacking the energy that I used to have and I'm trying to locate the problem.

It sounds like you may be overreaching. If so, you must take a rest to recuperate your energy levels. Read this article about overtraining, overreaching syndrome before you read on.
A whey protein drink alone is not sufficient to recover from an intense workout. You need high levels of complex carbohydrates, B-vitamins and antioxidants as well as protein.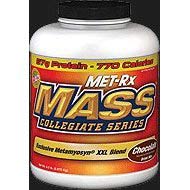 When you get into your college football strength and conditioning program you will most likely be given a Met-RX mass collegiate formula meal replacement after your workouts. This post-workout supplement has 770 calories.
It is very important with the amount of training that you are doing that you have a caloric surplus. You must consume more than enough calories than you need to make sure your muscles and overall system recover properly.
If you overtrain muscles and cardiovascular system, other systems will break down in your body which will cause lack of energy which is the first sign of overreaching / overtraining syndrome.
Another problem may be your breakfast. A small breakfast may not cut it when your talking about training 3x a day. Make sure you get a high complex carbohydrate breakfast such as oatmeal and take a multivitamin or B-vitamin supplement to help metabolize the food properly.
If you cannot handle a large breakfast before training, eat something before you go to bed so your muscle and liver glycogen (stored carbohydrate) stores will not be empty when you train.
Another reason for lack of energy could be dehydration. There are numerous studies which show dehydration as an indicator of fatigue. Especially with high levels of training, it is necessary to drink water early and often throughout your day.
If you think you are going through overtraining syndrome, take a week rest for about a week. You don't want to start your season off with low energy. Your collegiate strength & conditioning program will definitely be periodized to prevent plateau and overtraining.
Good luck with the upcoming college football season.
Back to Personal Trainer Questions
---
blog comments powered by