Which BOSU Model to Buy
Question:
I'm wanting to purchase a BOSU Ball and am wondering which one to get.

BOSU said they had 3 models and I'm trying to decide between the "Retail" model and the "Pro" model (the top 2 models).

I'm wondering which one you'd recommend and why? And why not the other?
Read the BOSU Balance Trainer Review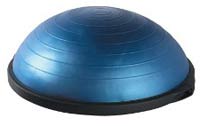 If in fact you're talking about the BOSU Balance trainer (pictured on the right) and not the BOSU Ballast ball the answer is pretty simple.
The "pro" or commercial model is the model of the BOSU Balance trainer you should get as it's made to last through hours and hours of heavy duty gym use.
Even if you jump up and down on it for 2 hours a day 7 days a week, 56 hours a month, 672 hours a year you will not even come close to wearing it out. All the videos on the BOSU Balance Trainer Exercise Videos on AskTheTrainer.com were filmed using the BOSU Balance Trainer PRO.
Another difference between the models is the warranty. It will not likely matter to you if you're using it at home, but the commercial version of the BOSU comes with a longer warranty as it's expected to last longer.
The only reason you should consider getting a lower model is if the difference in price is significant to your budget or maybe you want a smaller version due to lack of space. If you're looking for versatility, durability and high quality product that will effectively last for years, pay the extra couple bucks and get the professional/commercial model.
Here is information that was sent to AskTheTrainer.com straight from BOSU
(Please note. This was in June, 24, 2010)

:

BOSU® Pro Balance Trainer - (size not listed*)
The BOSU® Pro Balance Trainer is the highest-end Balance Trainer product. It is designed for unlimited use in a commercial facility. It has a thicker bladder (dome) and a rubberized, non-marking overmold on the platform (bottom) for optimal grip on floors and more durability. It has a one-year commercial warranty.


BOSU® Home Balance Trainer - (size not listed*)
The BOSU® Home Balance Trainer is intended for home use. The product is designed to perform for many years used within a home, but is not warranted for commercial use. The platform (bottom) has non-marking rubber feet to prevent slippage on floors. This model has a 30-days manufacturers warranty.


BOSU® Sport Balance Trainer – 55 cm
The BOSU® Sport Balance Trainer is an entry-level Balance Trainer product. It costs less and is smaller than the Pro and Home versions, but one can still get an effective workout using this tool. This product is meant to make the BOSU® Balance Trainer most accessible for people on a budget.


BOSU® Sport Balance Trainer – 45 cm
The BOSU® Sport Balance Trainer is ideal for sport-specific application and using multiple units at once. The smaller size enables you to position multiple units with close proximity to train specific athletic stances. These are also highly portable.

*When we asked whether the size of the PRO and Home models were 45, 55, or 65cm here was the reply.

"It's neither. We don't refer to them that way. It's a little over 2 feet (60.96 centimeters).
Our Sport Trainers are referred to that way, but not the Balance Trainers."

Best BOSU Balance Ball and Balance Trainer Online Deals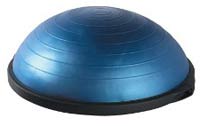 More BOSU Balance Trainer Information
---
blog comments powered by